LAKEWOOD RANCH'S PREMIER WINE BAR & WINE STORE
FEATURING WINES FROM AROUND THE WORLD

Fine Wine & Tastings on Main offers over 450 wines from around the World of which over 25 are available by the glass at our Wine Bar. These wines were personally selected by our staff for both quality and value.

Join us downtown Lakewood Ranch for one of our
WINE TASTINGS and discover your next favorite wine!
Visit us during HAPPY HOUR Tuesday-Friday 5pm to 7pm!
WINE REGIONS & GRAPE VARIETIES

Countries
France
Italy
Spain
Portugal
Germany
Austria
United States
Australia
New Zealand
Chile
Argentina
South Africa
Canada
Lovenia
Luxemburg

Regions
Bordeaux
Burgundy
Champagne
Cote du Rhone
Alsace
Piedmont
Tuscany
Sicily
Sardinia
Penedes
Rioja
Ribera del Duero
Rhine
Mosel
Washington
Oregon
California
Red Wine
Cabernet Sauvignon
Merlot
Pinot Noir
Zinfandel
Nebbiolo
Sangiovese
Grenache
Syrah
Mourvedre
Tempranillo
Syrah / Shiraz
Cabernet Franc
Aglianico
Nero D'Avola
Dolcetto
Barbera
Pinotage
Malbec

White Wine
Chardonnay
Gewurztraminer
Riesling
Sauvignon Blanc
Gruner Veltliner
Pinot Grigio / Pinot Gris
Semillon
Torrontes
Albarino
Falangina
Viognier
Muscadet
Picpoul De Pinet
Pinot Blanc
Vermentino
Find out about our special discounts for cases of 6 or 12 bottles,
and pre-sales of brand new wines!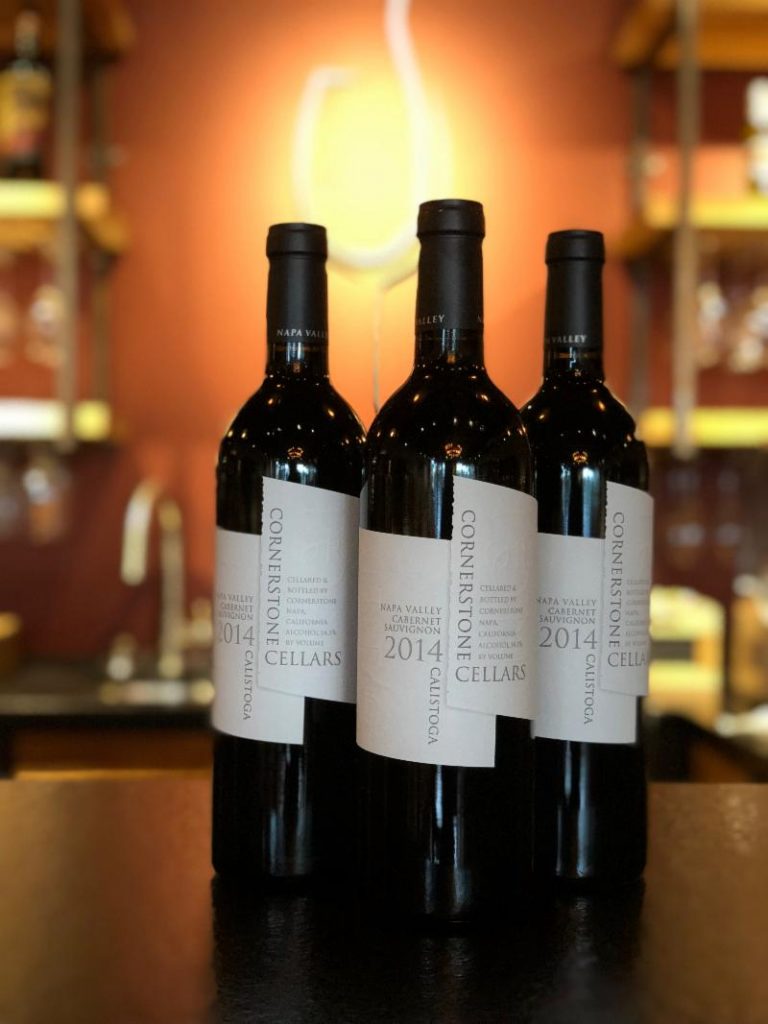 Pre Sale Details
Cornerstone Calistoga
Cabernet Sauvignon
2014
Winery Price: $75.00
Our Price: $48.99
Pre Sale Price: $42.99
Orders must be placed by Noon Sunday 8/5/18
Call to Place Your Order Today:
941-355-4718
Pre sale pricing can not be combined with other discounts or offers.
PRE-SALE

until 08/05/2018

CORNERSTONE CALISTOGA CABERNET SAUVIGNON
2014

Our next presale is without a doubt our biggest value yet! Cornerstone Cellars is located in Napa Valley and they produce a number of truly beautiful wines with some serious pedigree behind their wine makers.
Charles Thomas and Kari Auringer are responsible for some of the biggest wines to come out of California. Charles has been the wine maker for numerous Kendal Jackson wines, Lokoya, Verite, and was responsible for the first 12 vintages of Opus One. Kari has been involved in Cornerstone's wine making process for the past 18 years. She has played a role in the wine making for some of Napas most followed wines such as Scarecrow, Keever, Lindstrom, and more.
Winery Tasting Notes
Dark, rich and ripe. This wine offers classic Cabernet aromas of blackberry, plum, boysenberry, cassis, mocha and smoky toasted vanilla. As the wine opens up, the fruit flavors give way to a seductive core, classic cassis, licorice and a hint of leather. The tannins are sturdy but integrated. It is opulent and plush on release but it has the backbone and structure to age beautifully.

Many of you have been enjoying the Cornerstone Calistoga Cabernet by the glass this month and we will continue to keep it at the bar for tasting until the presale is over. If you have not had the oportunity to try it yet I highly recommend you come by and try this beautiful wine for yourself!
Happy Hour & Wine Academy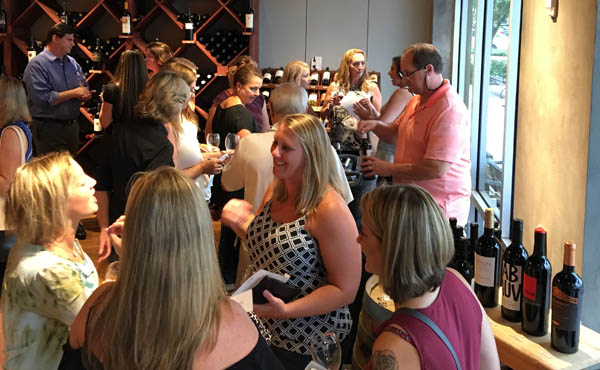 Happy Hour – 5 for $5 at 5pm
When: 
Tuesday through Friday from 5pm – 7pm
What:
  5 wines available exclusively for Happy Hour at $5 per glass & $1 off all cheese & charcuterie
Wine Academy
Join us for one of our once a month Wine Academy where we taste five wines based on a particular topic, region, or style.  The class is led by one of our staff or by other experts in the industry such as certified wine educators, suppliers, or wine makers.  Wine Academy is a casual comfortable environment to learn, ask questions, and share stories and personal experiences.  No matter what your experience level is with wine you are sure to learn something new!
Sign up for our emails to find out when our next class is and what topic we are covering.
Be sure to mark our next Wine Academy – Tuesday June 19th from 6:00pm – 7:30pm on your calendar and call today to reserve!! This month's Wine Academy will be $25 per person. Don't forget you will also receive a 10% discount on featured wines that evening!
Visit Fine Wine & Tastings on Main
Fine Wine & Tastings on Main, your premier Lakewood Ranch Wine Bar & Wine Store, offers you the opportunity to taste wines from around the world in an upscale yet comfortable environment.  We carry wines from both widely known as well as smaller boutique, and family owned wineries.
Come in and join us for a glass or take a bottle home from our extensive inventory.