LAKEWOOD RANCH'S PREMIER WINE BAR & WINE STORE
FEATURING WINES FROM AROUND THE WORLD

Fine Wine & Tastings on Main offers over 450 wines from around the World of which over 25 are available by the glass at our Wine Bar. These wines were personally selected by our staff for both quality and value.

Join us downtown Lakewood Ranch for one of our
WINE TASTINGS and discover your next favorite wine!
Visit us during HAPPY HOUR Tuesday-Friday 5pm to 7pm!
FINE WINE & TASTINGS ON MAIN
WINE REGIONS & GRAPE VARIETIES

Countries
France
Italy
Spain
Portugal
Germany
Austria
United States
Australia
New Zealand
Chile
Argentina
South Africa
Canada
Lovenia
Luxemburg

Regions
Bordeaux
Burgundy
Champagne
Cote du Rhone
Alsace
Piedmont
Tuscany
Sicily
Sardinia
Penedes
Rioja
Ribera del Duero
Rhine
Mosel
Washington
Oregon
California
Red Wine
Cabernet Sauvignon
Merlot
Pinot Noir
Zinfandel
Nebbiolo
Sangiovese
Grenache
Syrah
Mourvedre
Tempranillo
Syrah / Shiraz
Cabernet Franc
Aglianico
Nero D'Avola
Dolcetto
Barbera
Pinotage
Malbec

White Wine
Chardonnay
Gewurztraminer
Riesling
Sauvignon Blanc
Gruner Veltliner
Pinot Grigio / Pinot Gris
Semillon
Torrontes
Albarino
Falangina
Viognier
Muscadet
Picpoul De Pinet
Pinot Blanc
Vermentino
Find out about our special discounts for cases of 6 or 12 bottles,
and pre-sales of brand new wines!
Happy Hour & Wine Academy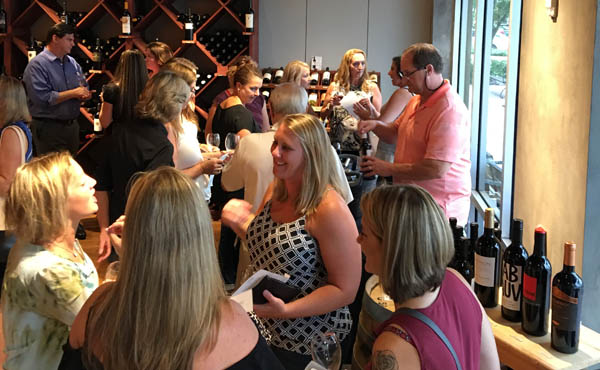 Happy Hour

When: 
Tuesday through Friday from 5pm – 7pm
What:  $2 off all regularly priced 5oz wines by the glass

Wine Academy
Join us for one of our  Wine Academy classes where we taste five wines based on a particular topic, region, or style.  The class is led by one of our staff or by other experts in the industry such as certified wine educators, suppliers, or wine makers.  Wine Academy is a casual comfortable environment to learn, ask questions, and share stories and personal experiences.  No matter what your experience level is with wine you are sure to learn something new!
Sign up for our emails to find out when our next class is and which topic we are covering.
Visit Fine Wine & Tastings on Main
Fine Wine & Tastings on Main, your premier Lakewood Ranch Wine Bar & Wine Store, offers you the opportunity to taste wines from around the world in an upscale yet comfortable environment.  We carry wines from both widely known as well as smaller boutique, and family owned wineries.
Come in and join us for a glass or take a bottle home from our extensive inventory.