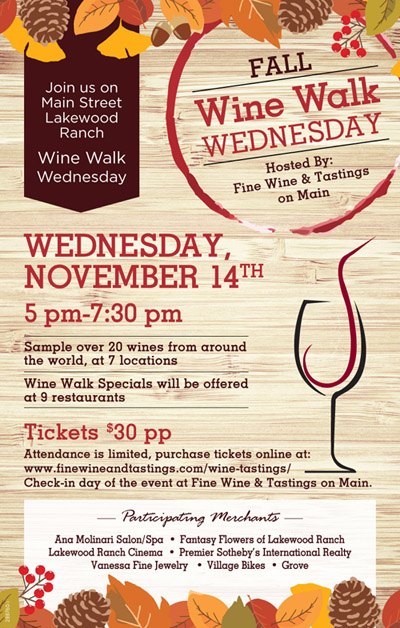 Wine Walk Wednesday
November 14th
5:00 pm to 7:30 pm
Sample 20 Wines from  Around the World at Seven Locations!
Wine Walk Specials will be
offered at 9 Restaurants.
Attendance is limited,
purchase Your Ticket now!
Only $30 per person.
WINE TASTINGS

Wine Tasting Every 2nd Wednesday Of The Month
5:30 pm to 7:30 pm
Join us and be able to taste 20 different wines.
Cost $20 per person.
Receive a 10% discount on any bottle purchases made during the tasting.
Limited seating. Please make sure to phone in for a reservation.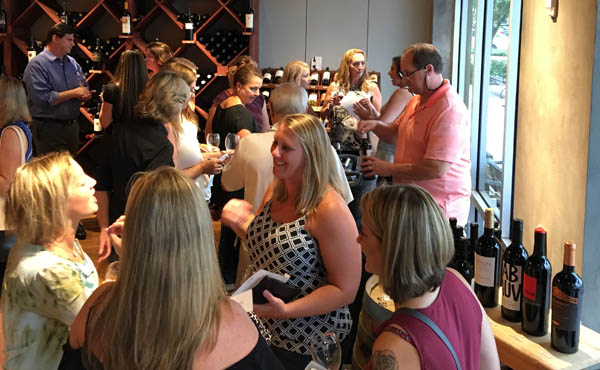 WINE ACADEMY

Wine Academy Once a Month
Join us for one of our once a month Wine Academy where we taste five wines based on a particular topic, region, or style.  The class is led by one of our staff or by other experts in the industry such as certified wine educators, suppliers, or wine makers.  Wine Academy is a casual comfortable environment to learn, ask questions, and share stories and personal experiences.  No matter what your experience level is with wine you are sure to learn something new!
Sign up for our emails to find out when our next class is and what topic we are covering.